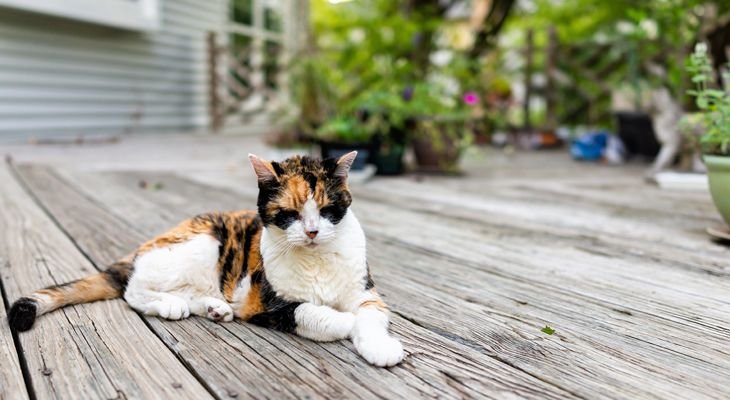 Hyperthyroidism is a condition that causes a cat's thyroid gland to produce too much thyroid hormone. This disease most often shows up in middle-aged and older cats.
The thyroid gland is located in the neck. Thyroid hormones affect most organs in the body, so hyperthyroidism can lead to other problems in these organs.
Symptoms of Hyperthyroidism
In hyperthyroidism, the thyroid gland becomes enlarged and makes too much of the thyroid hormones T3 and T4. The symptoms of hyperthyroidism are related to the effect that the hormones have on the body.
Excess thyroid hormones can cause the heart to beat faster and stronger. Left untreated, this can lead to damage to the heart.
The thyroid hormones can also lead to high blood pressure (hypertension). This can damage the kidneys, heart, brain and eyes.
The most common symptoms of hyperthyroidism include:
Loss of weight
Increased appetite
Increased thirst and urination
Vomiting
Diarrhea
Hyperactivity
Diagnosis and Treatment of Hyperthyroidism
To diagnose hyperthyroidism in your cat, your feline veterinarian will use the following:
Physical exam to check for an enlarged thyroid and increased heart rate or blood pressure
Blood tests to look for higher levels of thyroid hormones
Blood and urine tests to look for problems in other organs, such as the heart and kidneys
Treating hyperthyroidism may reverse problems caused by hypertension or increased heart rate. Sometimes, though, these conditions will require separate treatment.
The main treatments for hyperthyroidism include:
Medication. Anti-thyroid drugs reduce the amount of thyroid hormones made and released by the thyroid gland. This does not cure the condition, but reduces the symptoms and the effects on other organs. This treatment must be given for the rest of a cat's life. Regular checks of the amount of thyroid hormones in the blood are also needed.
Surgery. Surgically removing part or all of the thyroid gland reduces the amount of thyroid hormones in the blood. This is a permanent treatment. If the entire thyroid gland is removed, a cat will need to take replacement thyroid hormones for the rest of its life. If only part of the thyroid is removed, they may not need this replacement therapy.
Radioactive-Iodine Therapy. This treatment involves injecting radioactive iodine into the bloodstream. The thyroid takes up the iodine, while the other tissues ignore it. The radiation from the iodine destroys some of the thyroid tissue, but not nearby tissues. The thyroid hormones in the blood will return to a normal level within two weeks of treatment. This treatment works for almost all cats; although it has to be done in a special clinic.
If you notice any symptoms of hyperthyroidism in your cat or if your cat simply has not been in for a routine checkup in a while, contact our office today. We would be happy to schedule an appointment for you.