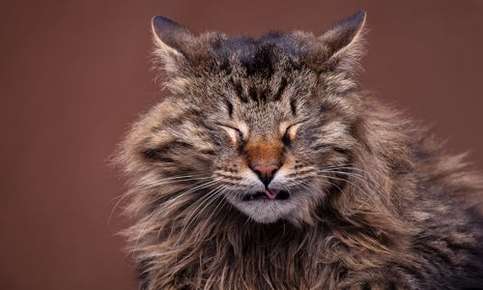 The flu doesn't just affect people. Your cat can develop the viral infection, too. Although most cats recover fully from a bout of the flu, it can be particularly hard on young, old and immune-compromised cats. Take a look at a few symptoms that can occur if your furry friend has the feline flu.
Common Symptoms of Feline Flu
Your pet will experience many of the same symptoms you do when you have the flu. Common signs and symptoms include:
Runny nose
Sneezing
Coughing
Red or pink eyelids
Fever
Eye discharge
Dehydration
Raspy voice when meowing
Joint pain
Appetite loss
Fatigue
Ulcers in the mouth or in and around the eyes
Most cases of the feline flu last 10 days to three weeks. Your cat may first begin to feel sick about two to five days after he or she has been exposed to a virus.
Causes of the Feline Flu
Flu symptoms are most often caused by exposure to the feline calicivirus (FCV) or feline viral rhinotracheitis (FVR) viruses. The viruses spread when an infected cat sneezes or coughs and your cat inhales the infected air droplets, or when your cat comes in contact with a water bowl, blanket, toy, litter box or other objects that contains the saliva of an infected cat.
Once cats are infected by the feline flu, they become lifelong carriers. They can infect other cats if they shed the virus. Fortunately, shedding usually only occurs if your pet is stressed. The events that cats find overwhelming vary, but may include adding a new person or animal to the household or moving to a new home. When cats shed the flu virus, they often become sick again, although it's possible to shed the virus without exhibiting any signs of illness.
You may be an unwitting source of the feline flu. Because the virus can survive on surfaces for hours as long as it remains moist, you may unknowingly bring it into your home on your clothing or shoes.
Consulting the Veterinarian
Consulting your veterinarian is a good idea if your pet develops any of the symptoms of feline flu. It's often possible to make a diagnosis based on your cat's symptoms, although your pet's veterinarian may want to confirm the diagnosis with blood and urine tests and X-rays, in some cases. If you suspect your cat has feline flu, please let your veterinarian's office know that when booking the appointment. They may want to take special precautions so that your sick pet does not infect others when you bring them in for a visit.
Although antibiotics aren't helpful in treating viruses, your cat's vet can offer treatments aimed at preventing complications and making your cat more comfortable. For example, painful mouth ulcers may force your pet to stop drinking water, which can lead to dehydration. During your cat's visit to the veterinarian, he or she may receive intravenous liquids to restore the normal balance of fluids and electrolytes.
Veterinary care is essential if you cat is very young or old, has a disease that affects the immune system or has a chronic health condition or disease, such as kidney failure or diabetes. These pets may be more likely to develop pneumonia or other secondary infections and must be carefully monitored and treated promptly should complications occur.
Making Your Cat More Comfortable
Not surprisingly, cats who have the feline flu are often miserable. You can make your cat more comfortable by trying a few of these tips:
Use a cool mist vaporizer to ease breathing. (Be sure to place it place it out of reach of your cat.)
Wipe away discharge from the eyes and mouth with a moist cloth.
Provide a variety of foods to tempt your pet to eat. (Heating food and offering smelly foods can be helpful if your cat's sense of smell is affected by a stuffy nose.)
Move a litter box closer to your cat's preferred resting place.
Provide a warm bed away from drafts in a quiet part of the house.
Preventing the Feline Flu
Vaccinating your cat can provide protection from the flu. Although the vaccine is effective against the most common strains of feline flu, it's possible that your cat could still become sick if infected by a less common or new flu strain.
Separating an ill cat from healthy cats is important if you have multiple cats. Washing bedding and blankets often and cleaning hard surfaces regularly will help protect your other cats from becoming sick.
Are you concerned that your cat might have the feline flu or another illness? Prompt veterinary treatment can help your furry friend recover and avoid serious complications. Contact us today to schedule a convenient appointment.
Sources:
VetInfo: A Guide to Cat Flu Treatment
https://www.vetinfo.com/guide-cat-flu-treatment.html
PetMD: Feline Calicivirus Infection in Cats
http://www.petmd.com/cat/conditions/infectious-parasitic/c_ct_feline_calicivirus?page=show
Healthy Pets: Spreads Like Crazy and Makes Your Pet Miserable – Is It Serious, 6/18/17
http://healthypets.mercola.com/sites/healthypets/archive/2017/06/18/calicivirus.aspx
PetMD: Feline Herpesvirus 1 (FHV-1) Infection - Head Cold in Cats
http://www.petmd.com/cat/conditions/infectious-parasitic/c_ct_feline_rhinotracheitis?page=2