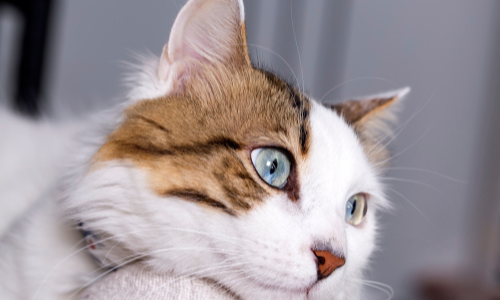 Is Anxiety, Stress, or a Disease Causing Your Cat to Lose Weight?
It's only natural to be concerned when your cat starts shedding pounds after years of maintaining the same weight. Sudden weight loss is often a warning sign that something is not quite right with your furry friend's physical or mental health. These nine conditions, diseases, and other factors can affect your cat's weight.
1. Cancer
Cancer can certainly cause weight loss, although it's far from the only reason your cat may be losing weight. Other signs that may indicate your cat has cancer can include sores that never heal, lumps and bumps, lameness, stiffness, lack of appetite, pale gums, vomiting, diarrhea, difficulty breathing, or trouble urinating or defecating.
2. Parasites
Roundworms, tapeworms, hookworms, and other parasitic infections might be the reason your cat is so thin. Your pet may develop the infection from eating wildlife, swallowing fleas, nursing from an infected mother, or even eating stools from an infected animal.
Symptoms of a parasitic infection can include diarrhea, nausea, vomiting, bloody stools, dull coat, and fatigue. You may notice parts of worms or whole worms in your cat's feces in some cases. Some cats drag their bottoms on the floor in an attempt to ease the discomfort caused by a worm infestation.
3. Diabetes
Weight loss can also occur if your pet develops diabetes, a disease that occurs when your cat's body stops producing insulin or doesn't make enough insulin. Despite eating more, your cat may lose weight. You may also notice your pet drinks more than usual and also urinates more often. Diabetes is becoming more common in cats due to increasing obesity rates, according to DVM360.
4. Kidney Disease
Kidney disease causes waste products to build up in your pet's body. Cats affected by the disease may lose weight, urinate and drink more than usual, and become lethargic. High blood pressure can also occur as a result of kidney disease or failure.
5. Stress
Cats that experience stress may eat less and soon begin losing weight. It doesn't take much to stress a cat. Changing your work schedule, adding a new person or pet to your home, loud noises, too few litter boxes in a multi-cat household, and other factors may raise your pet's anxiety level. In addition to changes in eating habits, other signs of stress and anxiety can include a disinterest in grooming or grooming more than usual, spraying, urinating outside the litter box, aggressive behavior, hiding, and meowing frequently.
6. Gastrointestinal Problems
Food allergies, infections or inflammatory bowel disease could affect your cat's ability to absorb nutrients needed to maintain a normal weight. Vomiting, diarrhea, itching, changes in your pet's coat, red skin, difficulty defecating, and coughing may be signs of a gastrointestinal issue.
7. Conflicts with Other Pets
If your cat is one of several other pets in your home, conflicts with other animals may be the reason for a drop in weight. Other pets may prevent your cat from eating from a communal food dish. If your cat feels threatened, it may go into hiding and rarely attempt to sneak past the other animals. Observing your pets at mealtime can help you determine if a conflict could be related to the change in your cat's weight.
8. Dental Problems
It's hard to eat if your teeth hurt, you don't have many teeth left, or your gums are inflamed or infected. If a dental problem is the reason your cat is shedding pounds, you may also see a change in the way your pet chews or notice that your cat drools often. Bad breath, tooth discoloration, and red gums are other signs of dental issues.
9. Old Age
Aging may increase your pet's risk of weight loss. In fact, 30 to 40 percent of cats aged 10 to 12 years have difficulty absorbing fats, proteins, and vitamins B-12 and E, according to the University of Illinois College of Veterinary Medicine. Since the risk of diabetes, kidney disease, and other diseases increases with age, trouble absorbing nutrients could be just one factor in your older cat's weight loss.
Are you concerned about your pet's weight fluctuation? Contact our office to schedule an appointment.
Sources:
DVM360: Diabetes Mellitus in Cats, 4/1/09
WebMD: Weight Loss in Cats, 9/8/18
Pet Health Network: How Can You Reduce Your Cat's Stress at Home?